"waves in public : squares"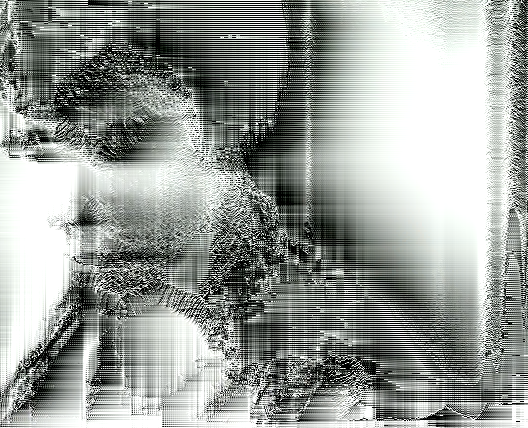 The final realisation of - now understood as - phase 1 of "waves in public : squares" [4. - 9. december 2007] consisted of 5 mini-fm transmitters positioned in 5 different locations in the centre of Ljubljana city/old town (see map). Every location included a 100x100 (or 100x150mm) digital graphic print, an fm transmitter and an mp3 player.
Digital prints were made using pure data (+pdp+pidip), most visibly 'rev' - Rutt-Etra video synthesizer 'emulation' mostly used by Vasulkas. FM transmitters were created using beautifully simple micro-radio 'circuit' diagram shared by Tetsuo Kogawa. The content of transmissions were matched with the content of prints which was a glimpse or a reference into media-art and film history in an interpretative way.
Last two (Nam June Paik and Kieślowski) turned out to be much more open in terms of 'wireless imagination' as they were without speaking content and harder to find on the FM spectrum. All of transmitters were broadcasting on a frequency near 90MHz and covered a radius of about 20-30 metres. In the construction of transmitters a step by step manual for the project by Adam Hyde and Lotte Meijer "Broadcast Your Podcast" proved as extremely useful.
Get the Flash Player to see this player.
At INFO point next to gallery ŠKUC it was possible to get a map of points, information on project and borrow a radio receiver.
Issues
Number of questions have been raised by this phase of the project that made me think of future developments:
- power: it was quite inconvenient (to the extent of exhibition-time being very short per day) to change batteries of transmitters every day. Future development will focus on solar power as well as PCM (or some kind of) player, that will start playing a loop immediately after sensing enough power.
- fm radio transmission issues: there was no complaint or incident, but it is illegal in Slovenia to broadcast anything on FM spectrum for any purpose without a licence from the licencing body. This is an issue that needs to be addressed in some form or another to enable a discussion on micro-radio forms of communication and communities.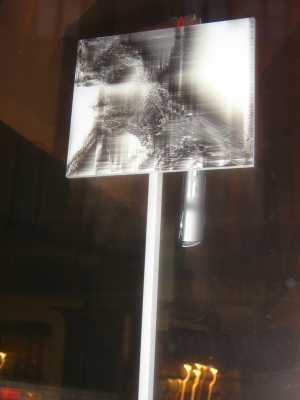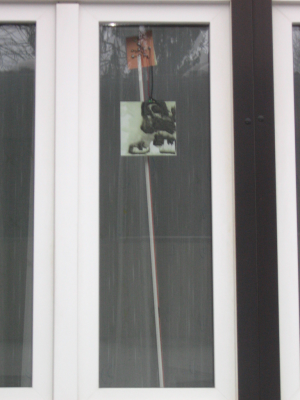 This project was possible with support by Ministry of Culture of Slovenia, City of Ljubljana, CODEEP association.
---
links:
Andalusian Dog by Luis Bunuel and Salvador Dali available from UbuWeb
Maya Deren's films at UbuWeb, including Meshes of the Afternoon
Stan Brakhage audio at UbuWeb, including broadcast Test of Time, that includes talk about Varese
Nam June Paik at UbuWeb including My Jubilee Ist Unverhemmet

---
"Man, when he is not restrained, is an erotic animal, he has in him an inspired shudder, a kind of pulsation that produces animals without number which are the form that the ancient tribes of the earth universally attributed to god. This created what is called a spirit. Well, this spirit originating with the American Indians is reappearing all over the world today under scientific poses which merely accentuate its morbid infectuous power, the marked condition of vice, but a vice that pullulates with diseases, because, laugh if you like, what has been called microbes is god, and do you know what the Americans and the Russians use to make their atoms? They make them with the microbes of god. - You are raving, Mr. Artaud. You are mad. - I am not raving. I am not mad. I tell you that they have reinvented microbes in order to impose a new idea of god. They have found a new way to bring out god and to capture him in his microbic noxiousness. This is to nail him though the heart, in the place where men love him best, under the guise of unhealthy sexuality, in that sinister appearance of morbid cruelty that he adopts whenever he is pleased to tetanize and madden humanity as he is doing now. He utilizes the spirit of purity and of a consciousness that has remained candid like mine to asphyxiate it with all the false appearances that he spreads universally through space and this is why Artaud le Mômo can be taken for a person suffering from hallucinations. - What do you mean, Mr. Artaud? - I mean that I have found the way to put an end to this ape once and for all and that although nobody believes in god any more everybody believes more and more in man. So it is man whom we must now make up our minds to emasculate. - How's that? How's that? No matter how one takes you you are mad, ready for the straitjacket. - By placing him again, for the last time, on the autopsy table to remake his anatomy. I say, to remake his anatomy. Man is sick because he is badly constructed. We must make up our minds to strip him bare in order to scrape off that animalcule that itches him mortally, god, and with god his organs. For you can tie me up if you wish, but there is nothing more useless than an organ. When you will have made him a body without organs, then you will have delivered him from all his automatic reactions and restored him to his true freedom. They you will teach him again to dance wrong side out as in the frenzy of dance halls and this wrong side out will be his real place. // Artaud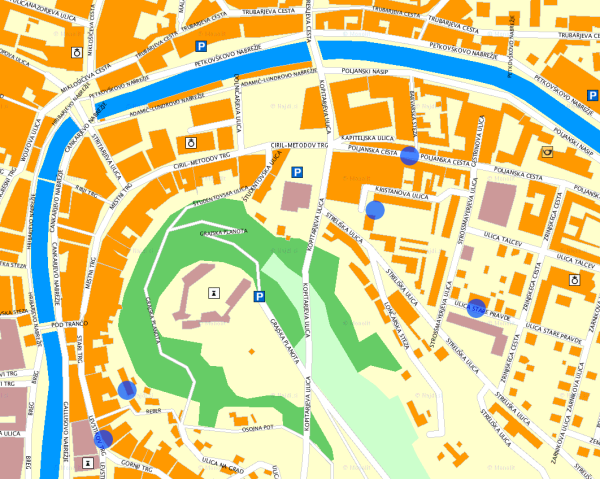 Multimedijski projekt SQUARES je igra za motiviranega obiskovalca z našiljenimi ušesi in kančkom vztrajnosti. Po Ljubljani je v času trajanje razstave postavljenih pet digitalnih grafik manjšega formata, katerim je pridan radijski oddajnik z malim dometom. Ob dejstvu, da je sodobno umetnost možno konzumirati poljubno po želji, naj nakažemo, da je umesten način tudi obisk točk z radijskim sprejemnikom. Frekvence oddajnikov se rahlo razlikujejo, zaradi enostavnosti elektronskega vezja so tudi nestabilne, vendar je dobro vodilo dejstvo, da oddajajo za normalni radijski spekter manj ustaljene vsebine. S sprejemnikom se je priporočljivo sprehajati med 88 in 91 MHz in prisluškovati nenavadno oblikovanim zvočnim vsebinam. Oziranje za grafiko v oknih pripomore k percepciji okolja. Vse grafike so postavljene v pritličju ali prvem nadstropju in so znotraj okenskega stekla.
Mini-razstava ali mini-igra? Radijski eksperiment ali digitalna likovnost? Medijska umetnost ali zabavni labirint? V centru mesta Ljubljane je vzpostavljenih nekaj točk, kjer lahko v kotu okna ali na fasadi hiše ugledate mali preblisk drugačne medijskosti - in trenutek na radijskih valovih se razlije skozi brezžično domišljijo.
Če ste brez radijskega sprejemnika, si ga lahko sposodite v INFO ŠKUC ob Galeriji ŠKUC, vsak dan od 16h – 20h. Oddajniki predvidoma delujejo med 14. in 20. uro.
kazalo:
. Un Chien Andalou / Andaluzijski pes (zvok: "For Salvador Dali", 3 poems for surrealists, John Tavener, + Antonin Artaud: Pour en finir avec le jugement de dieu)
. Meshes of the Afternoon / Mreže popoldneva (zvok: Maya Deren speaks)
. Edgard Varèse (zvok: Stan Brakhage, iz radijske oddaje Test of Time
. Nam June Paik (zvok: Nam June Paik, - My Jubilee ist Unverhemmet, 1977)
. Krzysztof Kieślowski (zvok: La Double Vie de Veronique)
tehnologija/izvori:
Rutt-Etra, Vasulka, Tetsuo Kogawa, Kinoko/Skizoko (Pure Data/PDP/PiDiP)
koncept in izvedba: Luka Prinčič
svetovanje+pomoč: Breda Kralj, Uroš Veber, Alenka Gregorič / ŠKUC
projekt so omogočili:
Ministrstvo za kulturo RS
Mestna občina Ljubljana
društvo CODEEP
Galerija/INFO ŠKUC

---
a review of the exhibition by Ida Hiršenfelder:

Luka Prinčič je na samostojni razstavi radijske umetnosti Valovi v javnem prostoru: SQUARES, ki smo jo lahko izsledili z radijskimi FM-sprejemniki na petih lokacijah v centru Ljubljane med 4. in 9. decembrom, predstavil izbor radijskih vsebin. Po eni strani se ukvarja z avdiopredstavnostjo vizualne umetnosti ter s teorijo in zgodovino radijskega medija. Hkrati pa postavlja nekatera temeljna vprašanja identifikacije sodobnega človeka v relaciji z znanostjo, religijo in vlogo, ki jo pri obeh igra zvok oziroma glasba.

Na vsebinski zasuk smo naleteli že pri prvi majhni digitalni grafiki Klikni za veliko sliko: Andaluzijski pes, ki je bila postavljena v zunanje okno galerije Škuc. Zvok sta oblikovala John Tavener in Antonin Artaud za 16-minutni film Luisa Buñuela in Salvadorja Dalija iz leta 1929. Citiram: »Povem vam, da so ponovno izumili mikrobe, zato da bi nam vsilili novo predstavo o bogu.«

V galeriji Škuc smo si lahko izposodili radijske prenosnike, s katerimi smo iskali frekvenco radijskega oddajnika s kratkim dometom. Oddajnik, ki je bil temeljni del grafike, je deloval v radiju od 10 do 20 metrov, njegovo vsebino pa smo našli nekje zelo nizko na frekvenčni lestvici pri 88 MHz. Kljub izjemno majhnemu dometu oddajnika ni bilo težko poiskati razstavnega zvoka, saj smo med ogabno povprečno zvočno navlako, ki je hreščala v bližini naše frekvence, zelo hitro zaznali intelektu prijeten zvok.

Frekvence malih oddajnikov so bile rahlo nestabilne in so oddajale za normalni radijski spekter manj jasne zvoke. Da nas to ne bi zmotilo, moramo prisluhniti najprej razlogu, ki ga navaja Prinčič. Želel je namreč vzpostaviti prikrivanje zvokov, ki bi ustvarili nenavadno in naključno zvočno sliko. Hkrati lahko prikrivanje razumemo v smislu definicije radijske umetnosti, ki jo postavita Heidi Gruntmann in Robert Adrian.

Ključno pri vzpostavljanju zvočne slike je torej njena variabilnost, saj je odvisna tako od kvalitete radijskega sprejemnika kakor tudi od okolijskih zvokov. Vpliv okolja je bil pri omenjeni razstavi najbolj očiten v prometnem trušču na Poljanski ulici 6, kjer smo spremljali del radijske oddaje Test of Time Stana Brakhaga, ki je govoril o Edgardu Varčseu – očetu elektronske glasbe. Varčse [verez] je postavil popolnoma nove definicije komponiranja v 20-ih in 30-ih, še preden je obstajala tehnologija, ki bi omogočala slikanje notranjega procesa izdelave zvoka.

Pri koncu posnetka naletimo na citat režiserja Ingmarja Bergmana, da je umetnost izgubila svoj kreativni gon v trenutku, ko je bila ločena od čaščenja. Vendar pa avtor oddaje temu nasprotuje z izjavo, da še vedno gre za isto iskanje, saj je postal um umetnika mediator pomenov, ki jih ne razumemo. To je torej tisti vsebinski zasuk na razstavi, ki smo ga že omenili.

Objekt radijske umetnosti je zvok. Prizadevanje za njeno neobjektnost je zato paradoksalno, saj razumevanje objekta ne gre razumeti preveč ortodoksno. Učinkov radijske umetnosti avtor ne Klikni za veliko sliko: more absolutno nadzirati, zato je vsako gledanje popolnoma enkratno in nihče ne more zamenjati rahlega pršenja dežja ob poslušanju delčka zvoka iz Kieślowskovega filma Veronikino dvojno življenje iz leta 1991 pod krošnjami dreves. Ali kompozicije Nam June Paika iz leta 1977 ob soju cestnih luči.

Prinčič je naletel tudi na ekološko težavo, saj so mini FM-oddajniki in sprejemniki neverjetno hitro požrli baterije. Avtor si prizadeva, da bi jih razvil v avtonomne enote s pomočjo sončnih celic. Vendar je tehnologija za tovrstna naravi prijazna prizadevanja zelo nedostopna. Razstava je bila izjemno ambientalno zvočno doživetje, zato se nadejamo njenega nadaljevanja.